Verdikt named to STATION F's FUTURE 40 for 2022: celebrating our 2nd birthday in style.
🔥We are proud to share that Verdikt has been selected as a part of STATION F's Future 40 for 2022!
This is a great honor for us. Being part of Future 40 recognizes us as one of the most promising startups among the 1,000 hosted at STATION F🚀
Verdikt at the forefront of promoting sustainable IT: recap of the Green Tech Forum
Verdikt is proud to be at the forefront of promoting sustainable IT practices. On December 1st and 2nd, we participated in the Green Tech forum for the second time the biggest annual meeting dedicated to reducing the environmental footprint of digital technology.🌿 🖥️
At the forum, our CEO, Christine, recently shared the stage with Saint-Gobain Distribution Bâtiment France's Group Supply Chain & IT Director, Maxime Poirson, to discuss key lessons learned from a 2-month project dedicated to evaluating the environmental impact of their IT department.
We also had the opportunity to engage in many thought-provoking discussions, make valuable connections, and learn about the initiatives and projects of prospective clients eager to launch and accelerate their transition to sustainable practices.🌱
Thanks to the Planet tech care team for putting on such a great environmental digital tech event! 👏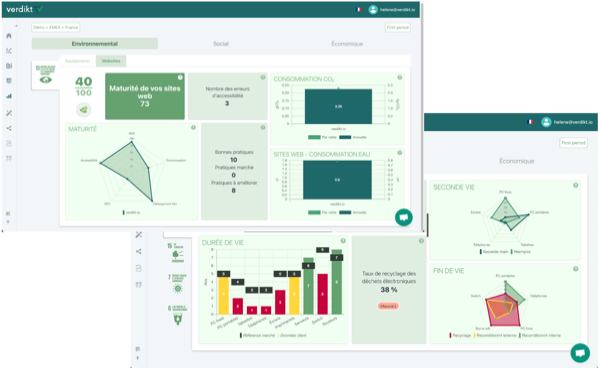 Enhancing our solutions: Improved dashboards and user experience
Following our client's feedback, we have enhanced our dashboards to highlight improvement levers directly on charts, using color coding and badges. In addition, user experience has also been improved to navigate faster across our solution and gain space to deep dive and zoom by collapsing our menu!
Finally, we have created a dedicated dashboard on website impact, providing insights on quantitative figures such as GHG emissions or water consumption and qualitative ones on eco-design, hosting, and accessibility maturities.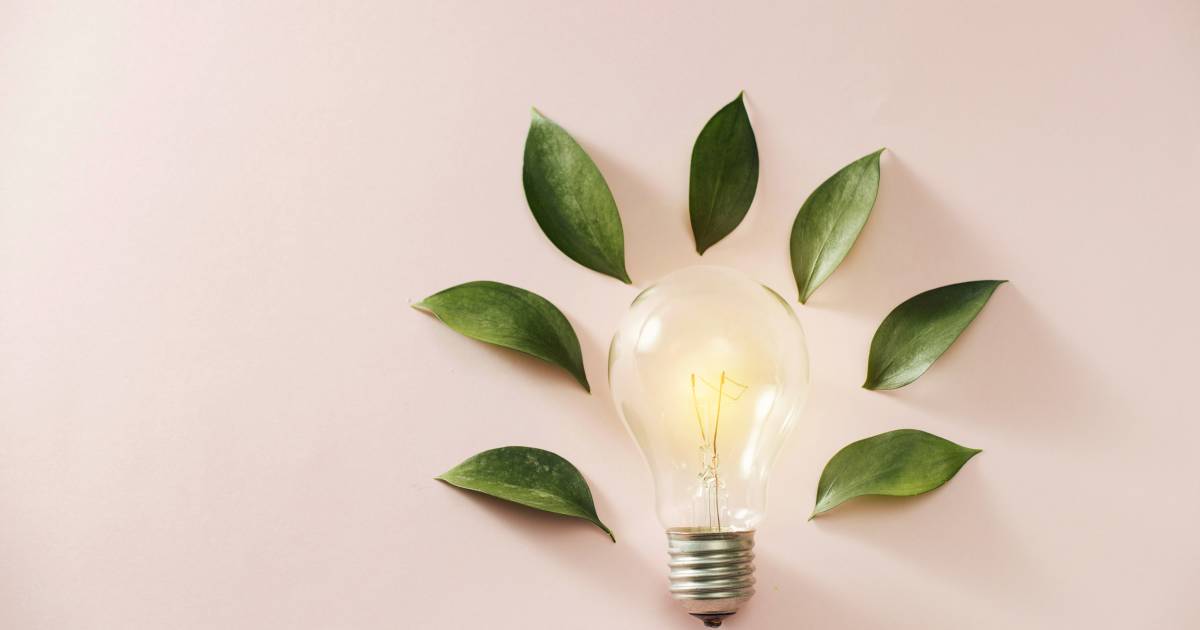 📃 Don't let the regulations catch up with you…and if no dry run has been performed so far it's more than time to add IT sustainability to your 2023 IT agenda! 
As we progress into 2023, it is becoming increasingly necessary for organizations to comply with ongoing regulations regarding the measurement of not only scope 1 and 2 emissions, but also scope 3 emissions. Utilizing Excel sheets alone will no longer be sufficient for tracking, reducing, and comparing data over time. Therefore, it is imperative that a more sustainable solution is implemented.
🌱Verdikt is committed to assisting organizations in this transition by providing professional expertise and a platform specifically designed to measure the impact of IT on the planet, people, and profit, in accordance with the United Nations Sustainable Development Goals and CSR regulations. 
As CIO and CSRO who share the subject (digital for one and sustainability for the other), it is imperative that you consider working together to include a digital component in your company's non-financial report in 2023. Verdikt is there to help you make this transition smoothly, with the goal of compliance with ongoing regulations and achieving sustainability.
IT sustainability is becoming a reality!
Our esteemed clients have shown a renewed interest in utilizing our services, not only to evaluate the impact of their information technology endeavours within France but also to measure their technology's impact in other countries as well.🌍 For example last month, we started to evaluate one of our client's IT impact in new countries, which will allow them to make meaningful comparisons between countries and take tangible steps toward reducing digital pollution. 
As the effects of climate change become more pronounced in 2023, the importance of sustainable IT practices is becoming increasingly clear. We are thrilled to see more and more companies recognizing the importance of sustainable IT and actively seeking solutions. 
The expertise of Verdikt is highly sought after by not only French CAC 40 companies, but also by a diverse array of European companies based in countries such as Switzerland, Sweden, and the Netherlands. This is a clear indication of Verdikt's unwavering commitment to aiding companies in achieving their IT sustainability objectives and making a meaningful contribution to the betterment of the world.
Sustainability and Service at the forefront
At Verdikt, we are dedicated to supporting the sustainability of your IT systems♻️. Our team of 9 is working diligently to ensure that we are providing the highest level of service. We are pleased to report that all of our team members are in good health and are making every effort to meet your needs.
To continue our development, Verdikt is looking for a full-stack intern/apprentice.
For more information click here and contact us: at talents@verdikt.io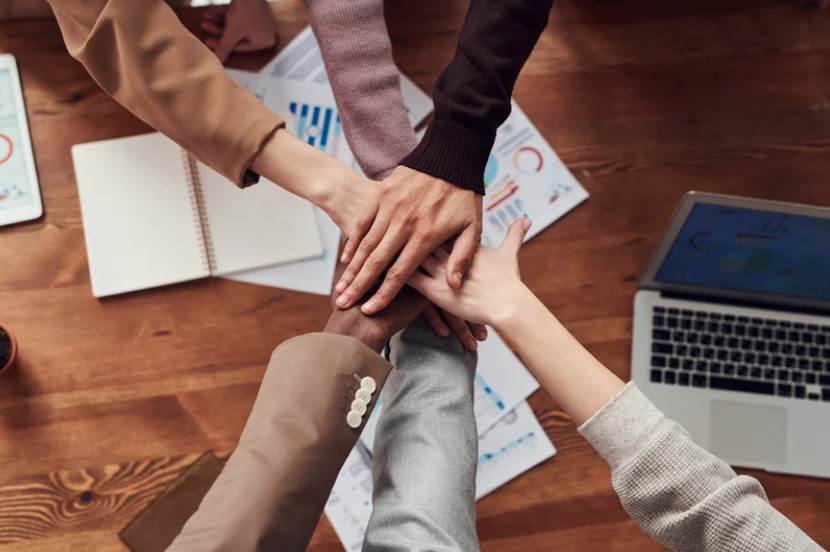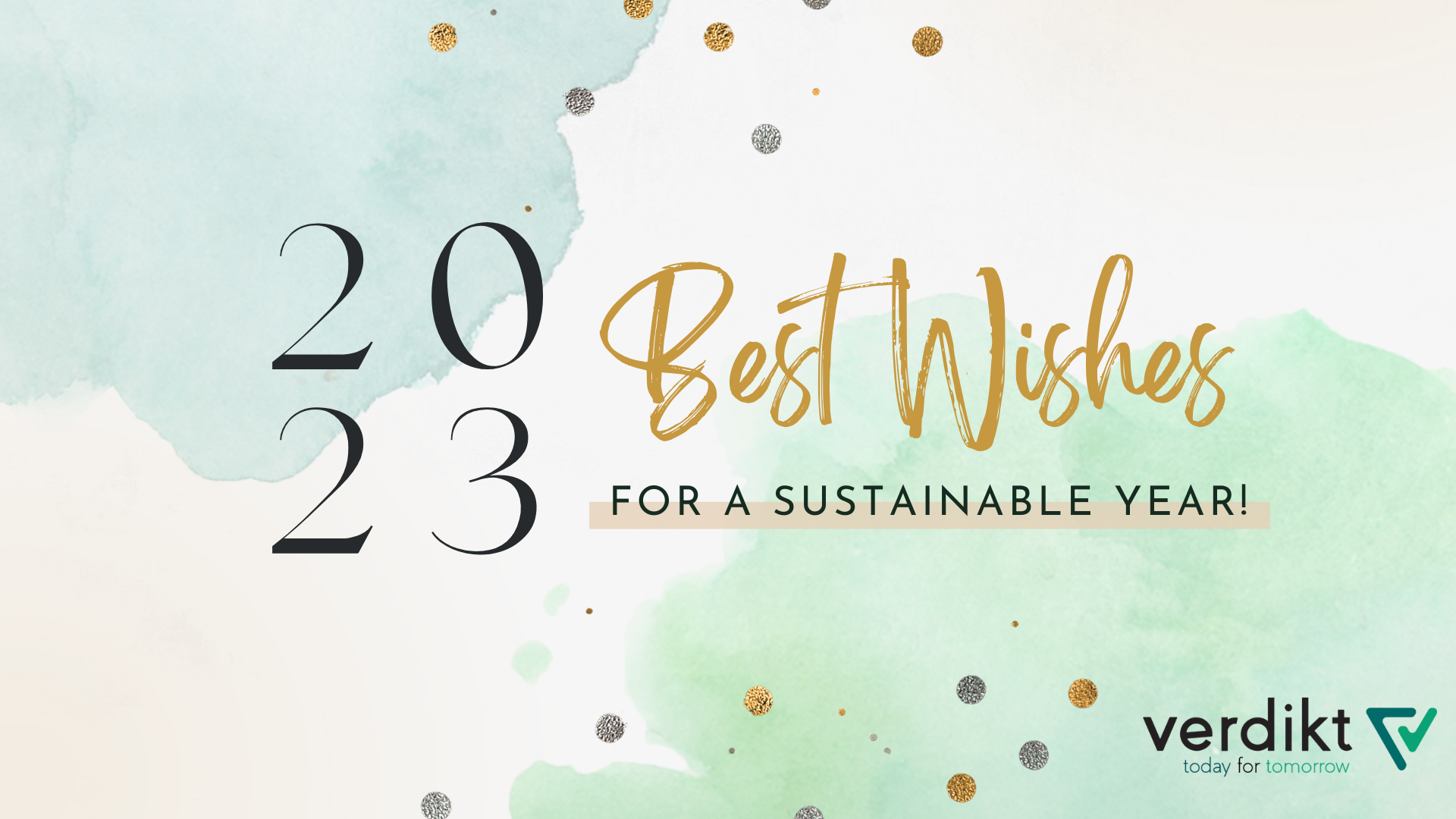 2022 was an outstanding year for Verdikt, as we experienced growth in all areas: team expansion, clients acquisition, partnerships setup, product enrichment and ecosystem recognition. We look forward to continued success in the year ahead.
🥳We wish you warm wishes for a Happy & Sustainable New Year! 
May 2023 brings success, health and happiness to you and your loved ones.
📣Stay tuned for more exciting updates from Verdikt!